Self Study eMath Course
Start learning today!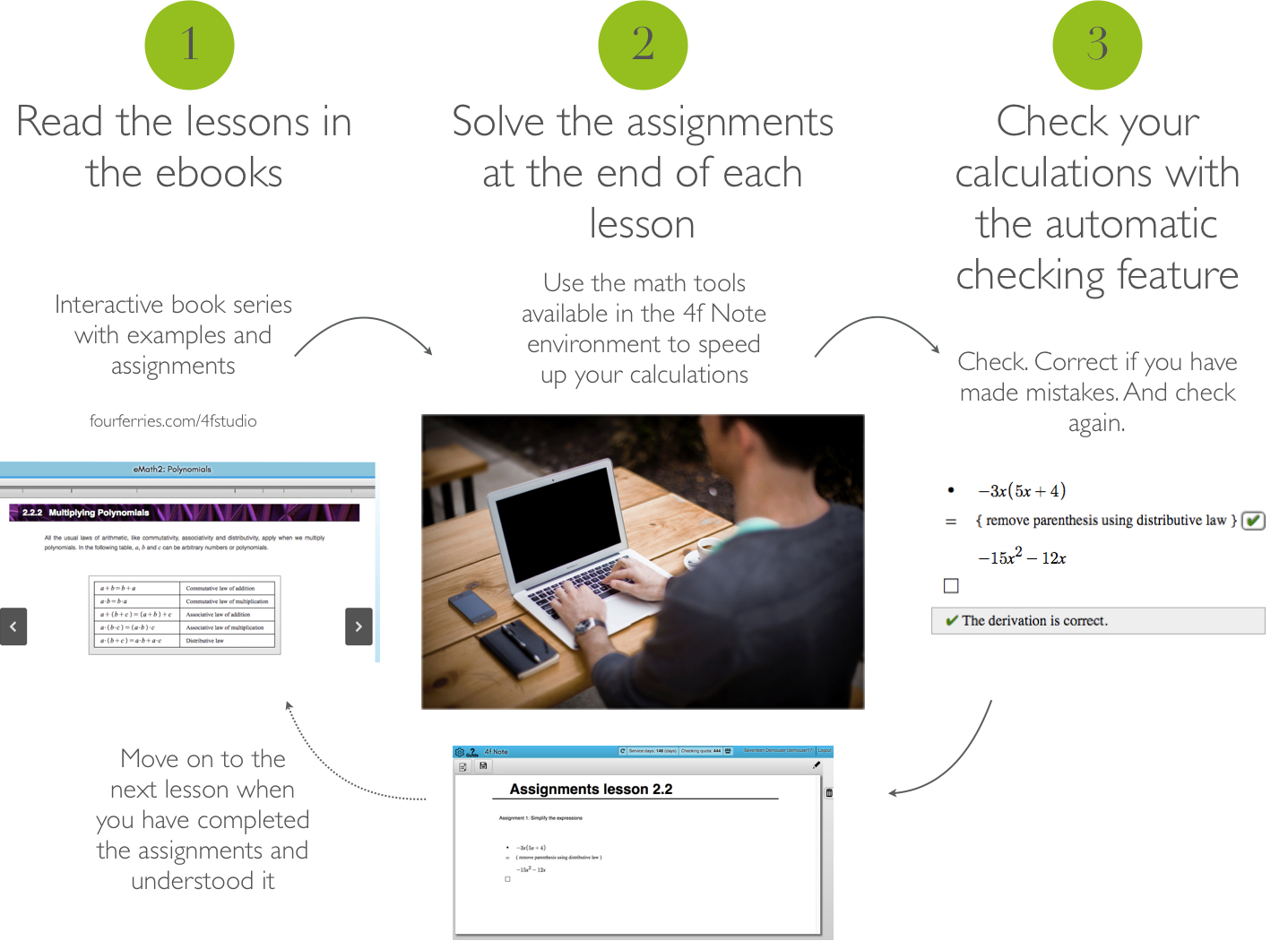 eMath Self Study Course for Learning High School Mathematics
The ebook course is structured so that you will learn all concepts in a logical order and is meant to be studied from beginning to end. The theory parts are short and concise and at the end of each lesson, you will find a page with assignments.
All 10 course books in the eMath series in 4f Studio online, use as many or as few as you wish
Create your own electronic notebooks. Collect material, assignments, theory, all in one place.
Effective tools for writing math digitally
Save pages where you have collected your own calculations, notes, material and links
Check your calculations step-by-step
Subscribe to a self study course
Subscribing to the online course will give you
Access to all books in the eMath series
Access to 4f Note where you can do your assignments and check them with the checker
200 Checkings/ month subscribed
Examples and assignments
The books are clearly structured with one new theoretical issue introduced per page. The ebooks include both examples and assignments with answers. Assignment pages are found at the end of each chapter. These can be used as lesson exit tickets to check that the student has mastered the theory introduced in the chapter.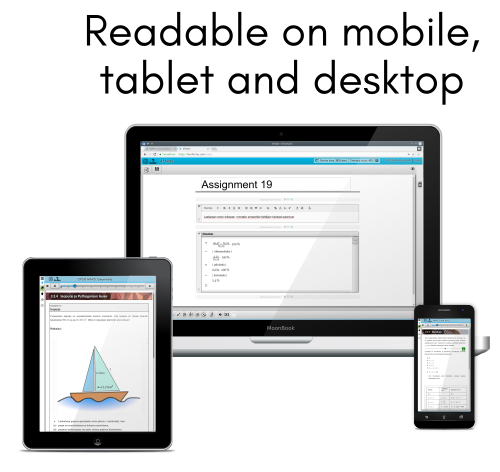 Automatic checking included
In addition course subscribers have access to the automatic checker that checks the calculations step-by-step.  You can use the checker to correct your work and spot where you have made mistakes, when working in the 4fNote environment.
Effective tools for Math
4f Note provides a powerful collection of tools for digital mathematics education. The rich text editor uses traditional mathematical notation for formulas, so mathematical text can be written and edited in a simple and straightforward way.  You can add a number of different mathematical content elements to a page, like function graphs, geometric figures, displayed formulas, calculations in traditional format as well as in structured derivation format, sign charts and general mathematical tables. Learn more...
Have a look inside the book
Developed by Math teachers and researchers from Finland, Sweden and Estonia
The eMath textbooks used in the course are developed by Math teachers from Finland, Sweden and Estonia. The books follow a teaching approach that uses the Structured Derivations methodology, where the idea is that every step has an explicit justification. This makes it easy to follow the examples that explain the theory. At the same time the approach forces the student to reflect on what they are doing. The books also introduce the students to logic, a step often skipped in school, but without which mathematics becomes magic instead of reasonable and understandable.